Hello! We'd like to invite you to exhibit at Stagecoach 2020!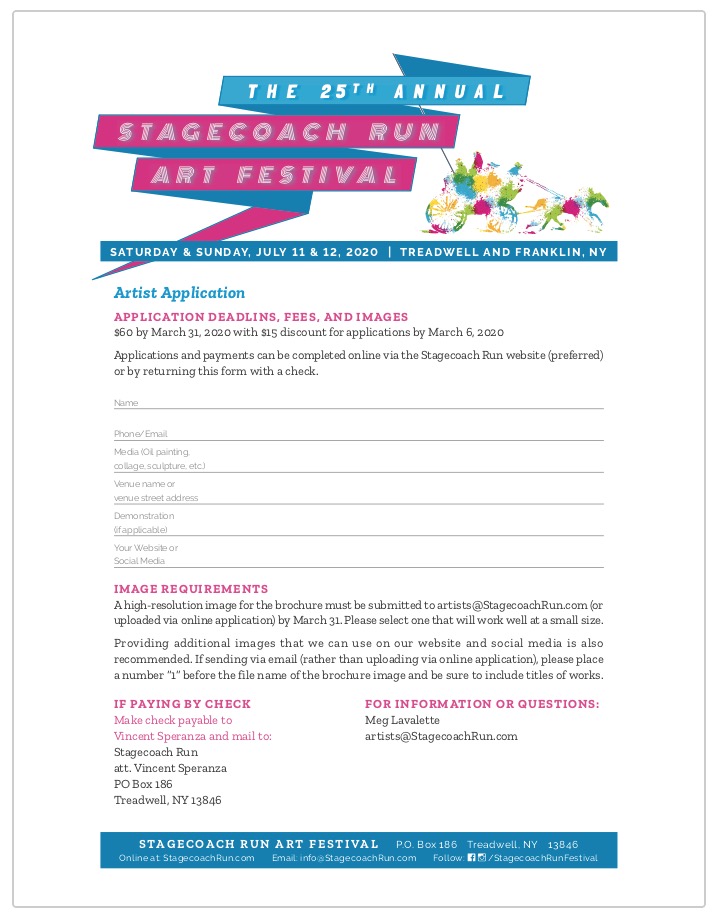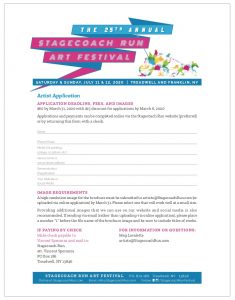 APPLICATION DEADLINES, FEES, AND IMAGES

$60 by March 31, 2020 with $15 discount for applications by March 6, 2020.
Please fill out the application below or download the PDF form and mail with a check as noted. For any questions please contact Meg Lavalette at artists@StagecoachRun.com
IMAGE REQUIREMENTS
A high-resolution image for the brochure must be submitted to info@StagecoachRun.com (or uploaded via online application) by March 31. Please select one that will work well at a small size.
Providing additional images that we can use on our website and social media is also recommended. If sending via email (rather than uploading via online application), please place a number "1" before the file name of the brochure image and be sure to include titles of works.
---
Problems with this form? Contact info@stagecoachrun.com.
APPLICATION AND FEE
Every participating artist must file an individual application and pay appropriate entry fees. Anyone allowing/hosting unpaid exhibitors at their venue will not be invited to participate the following year.
EXHIBITION VENUES
Below is a list of venues with available exhibitor space. You must contact the venue coordinator to confirm availability before listing it on your application. Venues are not allowed to charge artists commissions on sales.