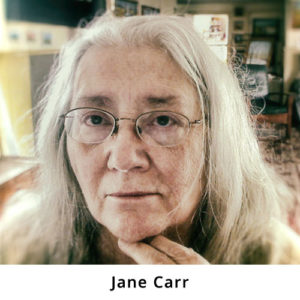 This year the Treadwell Stagecoach Run Artist Festival is proud to honor the two co-founders of the Festival, Jane Carr and Joseph Kurhajec, who launched the event in 1995.
At a very early age Jane Carr knew she wanted to be an artist and never looked back. She studied at the Philadelphia College of Art, the only woman in her major, and enrolled in the Yale School of Art and Architecture, the first year women were admitted to Yale. Originally focusing on sculpture, she studied under Marcus Aurelius Renzetti, Louis Finkelstein, Carl Sherman, and the great Louis Kahn. At Yale she met Bernard Chaet who taught her to draw and draw well. She has also made seven trips to the Arctic where she both taught and participated in the Great Northern Arts Festival. Here the Inuit taught her a valuable lesson. A landscape is less about the land and more about the character and intensity of the light.
Jane moved to the western foothills of the Catskill Mountains in the 1980s and settled in the village of Treadwell in 1992. Here she detoured away from sculpting and took up painting in egg tempera, something she had done in high school, falling in love with the changing light and landscape. She also met her neighbor, Joseph Kurhajec, an artist of many talents who has been here for forty years. While checking out Jane's new vegetable garden, Joe commented that he had heard she may be an artist. She was, and thus an artistic bond was formed.


Joe and several other local artists had attempted to launch an art festival a few years earlier, but it never really succeeded in getting off the ground. Joe convinced Jane they should try again; she readily agreed. And so the Treadwell Stagecoach Art Festival was begun in the summer of 1995 and has been going strong for 21 years. Jane and Joe agreed that the show would not be juried but only fine artists and artisans could exhibit. The original Stagecoach hosted about a dozen artists. This year the Festival will host fifty exhibitors and follows Jane's and Joe's "the more the merrier" dictum.
Jane is looking forward to this year's Stagecoach and meeting the hundreds of visitors who attend. It will be interesting to see where her varied artistic talents have taken her this year. When asked if she had some final words of wisdom, she quickly responded, "Yes! Put your hand to art every day, even if it is only a doodle."