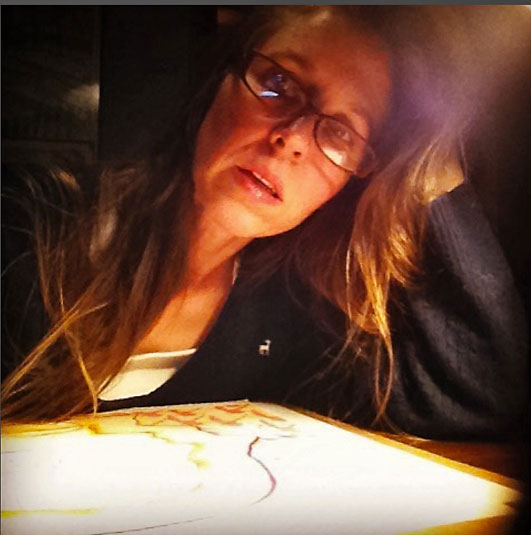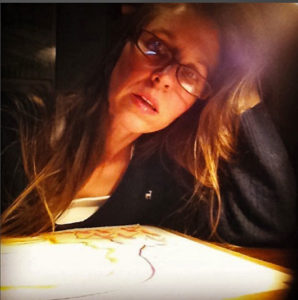 ANNA SEA was born in Chicago to a mid-western father of German descent and an Austrian mother, and grew up on the northeastern coast. She has lived and worked predominantly in Connecticut, Austria, Boston, and New York City.
Anna has traveled extensively throughout Europe, Southeast Asia, and Central and South America. She presently lives with tattooer and musician Craig Rodriguez, and their son and daughter on an old farmstead in the Catskills, and in Brooklyn, New York.
In Brooklyn, they own and operate Hand of Glory Tattoo Studio and The End Is Near Gallery. Anna is also the co-owner/proprietor of the Oculo Visitant Gallery and the Franklin Guest House.
"Grace, delicacy, passion, and cruel self-obsession explodes and devours itself on the jewel-like surface of Anna Sea's beautiful autobiographical songs in paint." —  Joe Coleman

Anna has been drawing and painting her whole life, since an early age illustrating the layers of identity and human experience through the lens of her own life. Her art techniques include and often blend painting, stained glass, embroidery, wood work, and poetry.  She co-founded three businesses, speaks German, shoots thousands of photographs and a Colt .45. She chops wood like a man, and is a hack cabinet maker, On top of that she's developed and operates a mini-hotel in Brooklyn, raises two children, and has a justified obsession with food. Anna cares for thirty or so egg-laying chickens and other animals destined to be food on the table. In between and around all this, she is also an artist and painter, making astonishingly detailed and thoughtful paintings. Anna is excited to be showing in this year's Stagecoach Run Art Festival.
"Anna Sea is one of my favorite artists. With her exquisite technique, she stands among the great masters of our time." — Norbert Kox

GALLERIES / SHOWS
La Luz de Jesus (Los Angeles), Ann Nathan Gallery (Chicago), American Visionary Art Museum (Baltimore), Lucky 13 Saloon (New York), Art Gotham (New York), Front Room Gallery (New York), Future Prospects Art Space (Philippines), Trampoline House (New York), Fuse Gallery (New York), Williamsburg Art and Historical Center (New York), Cambridge Art Association (Cambridge, MA), Pleiades Gallery (New York), Attleboro Arts Museum (Attleboro, MA), Limner Gallery (New York), ISB Gallery, RISD (Rhode Island), Giant Robot (New York), The End Is Near (New York), Nancy Margolis Gallery (New York).  Her work has been printed in publications such as Direct Art, Juxtapoz, and Maxim.