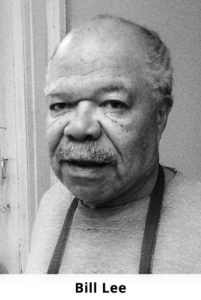 BILL LEE  was born and raised in Springfield, Massachusetts and graduated from the University of Massachusetts, Amherst with a BA in English ('61). During college he selected electives in the newly established Fine Arts School. Though a writer*, his secondary interest in art was solidified. Even though he took art courses shortly after college when he relocated to New York City, eventually art became a viewing project while other responsibilities took precedence. After a career as a civil servant in New York, and shortly before retiring Bill's interest in art revived and it became an active project. When Bill and his late wife, Kathy, purchased property in vista rich Delaware County, N.Y. Bill's second career as an artist was sealed.
1. Cloud Bank Over The Great South Bay,
Image size: 12" 1/4 X 19"
Screenprint
2. Fifteen Flags
Image Size: 9" X 12"
Screenprint
3. Catskill Sunset
Image Size: 12" X 19"
Screenprint
4. Dodge House, Robbins Rest F.I.
Image Size: 13" X 18"
Screenprint
5. Astrocicles
Image Size: 11" X 7"
Screenprint
6. On Loomis Brook
Image Size: 12" X 15"
Screenprint
Oil and printmaking courses University of Massachusetts, Amherst(BA, English).
Classes in lithography and silkscreen printmaking, Pratt Graphics Extension Center, New York, NY. Honorable Mention in student show.
Sketching class, Stuyvesant Extension Center, Cliff Enright, instructor.
Private sketching and pastel painting instruction, Cliff Enright, instructor.
Private printmaking classes, Soho Graphics Center, Xavier Rivera, instructor.
Classes in pastel, Pastel Society of America.
Participated in sales and exhibits as a member of the Delhi Art Group.
Exhibited frequently in the Cooperstown Art Association's two annual juried shows, the National and the Essential (New York State artists only) exhibitions. Awarded prizes twice in the Essential and twice in the National.
Solo show of pastel landscapes, Cooperstown Art Association.
Dual show with Jane Carr at MURAL Gallery, Stamford NY.
Frequent exhibitor in the annual Stagecoach Run Art Festival, Treadwell, NY
Printmaking classes and now a member at The Art Students League of New York. Received Red Dot (best in show) award in class show at the League.
Works in permanent collection of the Arts Students League of New York, the Delaware County Historical Society and many private collections.
*Bill's short fiction and essays have appeared in Escapade, Scrumdown, The Rural New Yorker and Kaatskill Life.