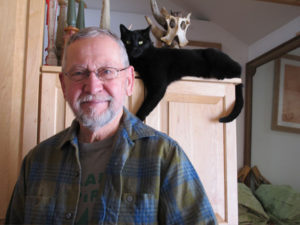 Painter RICHARD KATHMANN works plein air in the Catskill forests, on the Atlantic shore in Massachusetts and Maine, and in New Mexico. He has had two residency fellowships. In the east he's been at the Saltonstall Foundation in Ithaca, NY. Out west he's had a residency at Twelfth Street Studios/Gallery 408 in Carrizozo, NM. Kathmann was an artist-in-residence at Acadia National Park in Mt. Desert Island, ME.
He received The Woodstock School of Art Award for his "Banks of the Hudson" exhibition in 2009 at the school. His landscape drawing and painting were exhibited at Mohawk-Hudson Artists 2010 at The Hyde Collection in Glens Falls and Mohawk-Hudson Artists 2011 at The Albany Institute of History and Art. In June 2012 he took part in the renowned painting marathon, "Arbor Vitae," at Old Westbury Garden, presented by the New York Studio School of Drawing, Painting, and Sculpture.
Richard Kathmann trained at the University of Chicago, The School of the Art Institute of Chicago, and Pratt Institute. He currently gives plein air and studio instruction in landscape drawing and painting. He's at work on "Ten Studios," documenting work from his sojourns in Chicago, Medellin, Colombia, Brooklyn, Gilmanton, NH, Munnsville & Sherrill, NY, Guthrie, OK, West Kortright, NY, Owls Head & Mt. Desert Isle, ME, and Carrizozo, NM.
Says Richard of his Delaware County studio:

"I live and work on a portion of the large farm where I grew up with three siblings. We were farmers, German emigrés. A clan of seven brothers and sisters, four of whom had farms at one time within two or three miles of each other.

I am renovat1ng the family's third saphouse as my studio and liv1ng space. In the 70 acre sugar bush that lies beyond my windows I can see the saphouse I worked in as a youth. The forest has become my principal motif. The silence, the wild animals, the woods — it's paradise. Though the w1nd buffeting the trees can be as loud as a freight tra1n.

Living where I grew up keeps me in touch with my angels and demons, a necessary condition, I think. Here in Delaware and nearby count1es we all treasure the wonderful milk, cheeses, eggs, meats and vegetables the farmers produce for our pleasure and health. And 165 away lies NY, NY — one of the planet's great cites."
You can see more of Richard's work at his website: http://www.richardkathmann.com